Once you've managed tocreate your own logo and all the challenges and worries that come with that are finally over, you'll probably find yourself wondering what should you do next. To make your journey easier and help you get the most out of yourbusiness logo, LogotypeMaker brakes down the.svg file format.  Keep on reading and you'll find out not onlywhat is a vector image but also what it's good for, and how to actually use it!   
What's an SVG file format?
what is svg?
SVG stands for Scalable Vector Graphics. As the name implies, it's a vector graphic format, which scales well. And that's exactly what you want from a logo if your business requires a large format printing (like a T-shirt, a signboard or a sandwich board).
Each .svg file is based on XML, which means all the info regarding the image's color, shape, lines, curves, and text is stored in the readable text files. It makes the.svg file format easily customizable. You can modify the image in basically any way and it won't lose the initial quality.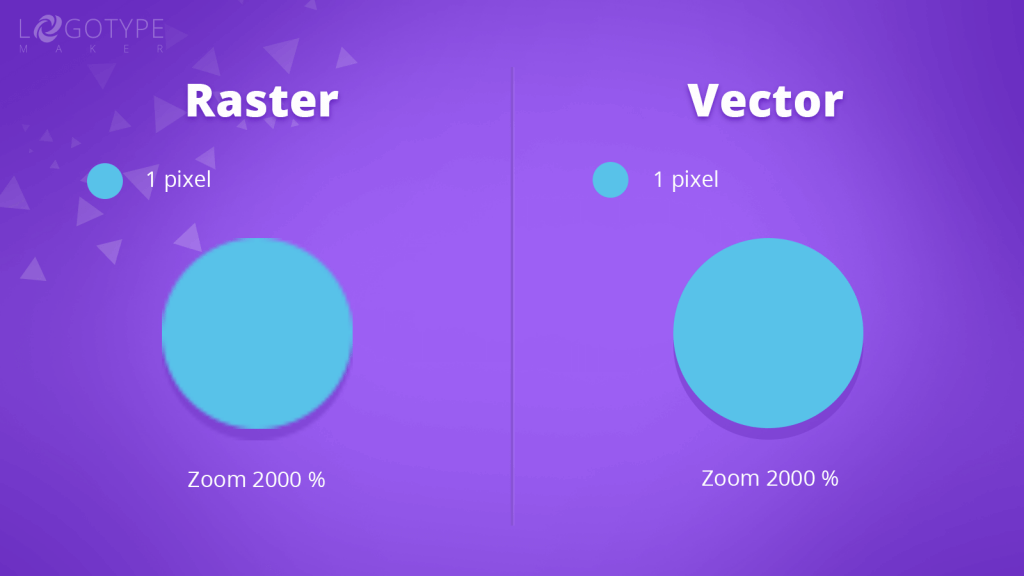 Raster vs. Vector
As mentioned above, .svg is avector format, which probably conveys nothing to you if you're not into graphic design. The thing is, there are two types of graphic files: vector and raster. And when it comes toraster vs vector choice you should consider the pros and cons of each format.
Raster files contain the data referential to every pixel forming an image.Vector format,on the other hand, accumulates the data as the geometric description (lines, curves, shapes etc.). That's why raster files like GIF, JPG or PNG are typically used for the images that you're not going to scale up. However, if you'll try to make the raster file larger, you'll see that it loses its quality and doesn't look good.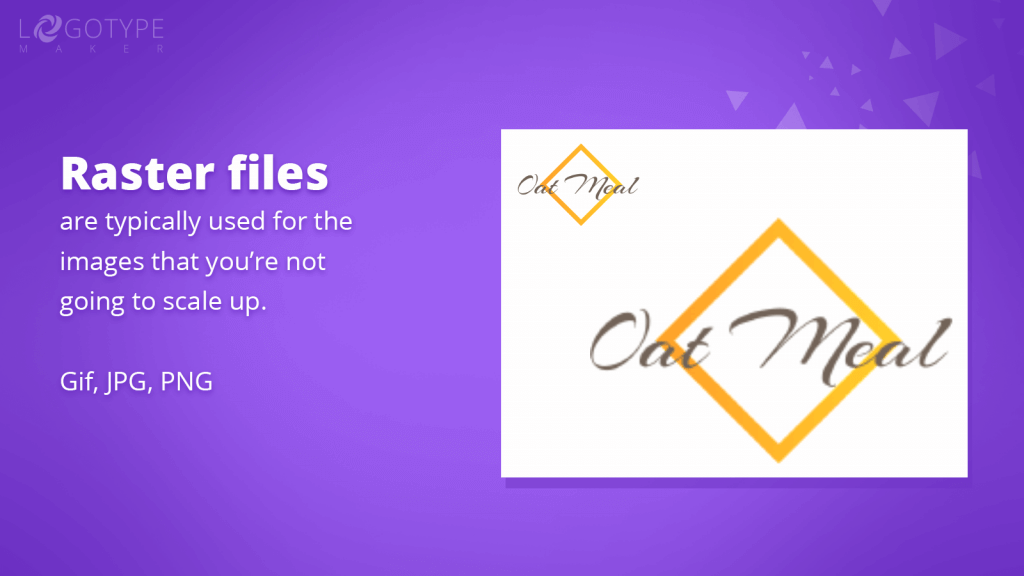 Vector formatdoesn't have that problem, so it's usually used for the displays with higher resolutions (e.g. retina displays) and printing. That's why when you download your LogotypeMaker package you'll see that all the smaller images like social media avatars, favicons, website pictures (including a logo) or email signatures usually come in .jpg and .png and the print-ready files are mostly in .svg format.
How to open SVG format?
Another great thing about the.svg file format is that you can open it even if you don't have a specific image editor like CorelDraw. You can view it in your browser!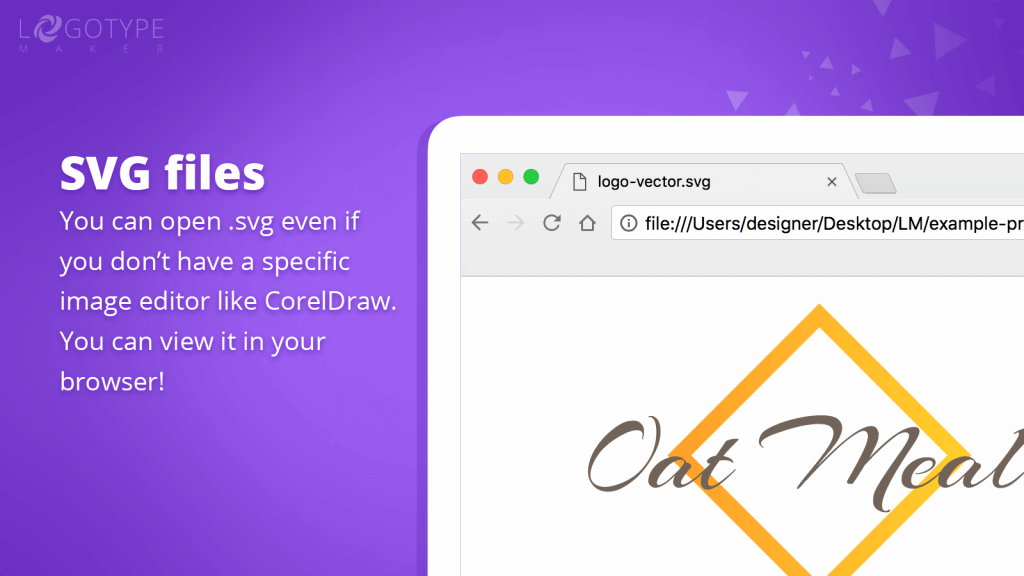 However, if you plan to edit the.svg format file, you need either a vector-based editor (CorelDraw, Adobe Illustrator, Inkscape etc.) or a text editor (like a Notepad++).
What are the advantages of SVG file format?
The main (but definitely not the only) advantage of all thevector format files is the scalability. You can scale up the .svg file and it still will look as good as if it was small.
Besides, .svg format is pretty interactive. Being based on XML it's very easy to customize. You can edit it, add animation and other effects using the CSS or Javascript.
.svg file format has a text in it (that's why you can open it via the text editor). It improves your website's Google (and other search engines) image search results. Eventually your website becomes more visible and the traffic grows.  
And of course, we can't but mention the relatively small size the .svg files have. It's a huge asset when it comes to web performance. Mostly because the pages load faster both on PC and mobile devices.
Where to use the SVG format?
Now, when you knowwhat is vector graphics, it's time to find out how to use it to your advantage. .svg file format is multifunctional and can become every entrepreneur life saver.
Printing
Yep, we've mentioned it several times already but it really deserves to be pointed out again! As an entrepreneur you'll have to get yourbusiness logoprinted even more often than you think.
You need to get a branded uniform for the staff in your cafe? Reach out for that SVG logo of yours! You plan to launch a street publicity campaign? The guys at the ad agency will ask you for the.svg formatfiles. You lack flyers for the promoters to give away? .svg is the key! You dream of a stunning signboard for your shop or gym? .svg format saves the day! And trust, the list goes on and on!
Web presence
You may not know that the .svg file format allows you to create not just static images but mesmerizing animations and pictures with ravishing visual effects. Sure, the animated logo may be too tacky for the daily use but it's always good to know you have that trick up your sleeve, right? Animated .svg format images will for sure catch the customer's eye and will make your brand stand out. Which is perfect for promotional activities and special business occasions.
Besides that, if you want your website to have some kind of an interactive piece like a map, a diagram or an infographic, consider getting one in.svg file format.  It will keep the users entertained and will help to hold their attention on the things you want to be noticed.
And don't forget about the .svg interfaces or web applications you can create! Sure, it requires some HTML5 skills but besides that design and development opportunities .svg file format provides is more than impressive.
Hope this short article has helped you to understandwhat is vector graphics and put some ideas in your head regarding the .svg files you now own after creating a logo via LogotypeMaker. Share your thoughts and accomplishments in the comment section below and may all of your plans be fulfilled!